McGarf International Pty Ltd
A.B.N. 52 093 997 356
Unit 2, 19A King Edward Rd
OSBORNE PARK
WESTERN AUSTRALIA 6017
PO Box 1186
OSBORNE PARK
WESTERN AUSTRALIA 6916
Phone
International: +61 8 9244 1862
Fax: +61 8 9244 1845
E-mail: sales@mcgarf.com

For Australian orders contact:
Frazer McKay Pty Ltd
Phone: (08) 9244 1316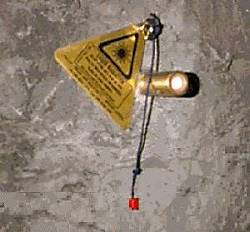 Laser Alignment System
McGarf International Pty Ltd have developed an instrument which provides a more efficient method for the alignment of drill and blast markups in hardrock underground mining.

Save Time
Quick and easy one person installation for mark-up of faces in underground mining.
Save Money
Eliminate costs associated with misaligned eyeball mark-up in underground mining, eg. drilling, blasting, bogging, trucking etc.
Eliminate Grade Sticks and Bell Wires
The features and advantages of the McGarf Laser Alignment system are:
There are no bell wires or grade sticks to hang;
Line and grade from a single laser spot;
Longer sighting for mark-up than traditional methods;
Laser unit is quickly removable for use elsewhere.