McGarf International Pty Ltd
A.B.N. 52 093 997 356
Unit 2, 19A King Edward Rd
OSBORNE PARK
WESTERN AUSTRALIA 6017
PO Box 1186
OSBORNE PARK
WESTERN AUSTRALIA 6916
Phone
International: +61 8 9244 1862
Fax: +61 8 9244 1845
E-mail: sales@mcgarf.com

For Australian orders contact:
Frazer McKay Pty Ltd
Phone: (08) 9244 1316
What the mine surveyors have been saying:
"Has halved our manhours!"

"I can't see us going back to using grade sticks and bell wires "

"The miners are rapped in it."

Frustrated with mining results?
Many responsible underground mine employees have at some time been frustrated with the mining results of traditional mine face mark-up techniques (grade stick/bell wires).

Efficient method for alignment
As a result of this, McGarf International Pty Ltd developed the McGarf Alignment Laser and Sleeve to provide a more efficient method for alignment of drill and blast mark-ups in underground mines. The system can eliminate costs associated with misaligned eyeballed mark-ups. Eg. drilling, blasting, bogging, trucking etc.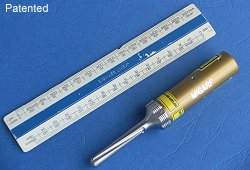 Palm sized instrument
The McGARF system features a palm-sized laser alignment instrument which is quickly removable after use from a grouted insitu wall sleeve. The position opposite the excavation face is determined and set out by a mine surveyor. The sleeve is embedded into an epoxy resin putty, within a 14-16 mm hole drilled 90 mm into a mine wall, so that the open end of the sleeve is flush with the wall.
One person operation for mark-up of faces in underground mining.
Every time a mark-up is required, the McGarf Alignment Laser is inserted into the sleeve and the laser beam intersection point with the working face is marked with paint. The McGarf Alignment Laser is then removed and the face is marked-up from the painted reference mark.
The system is not difficult to operate and can be used by any responsible mine worker. With this system marking up faces can be carried out by one person.
Product Specifications